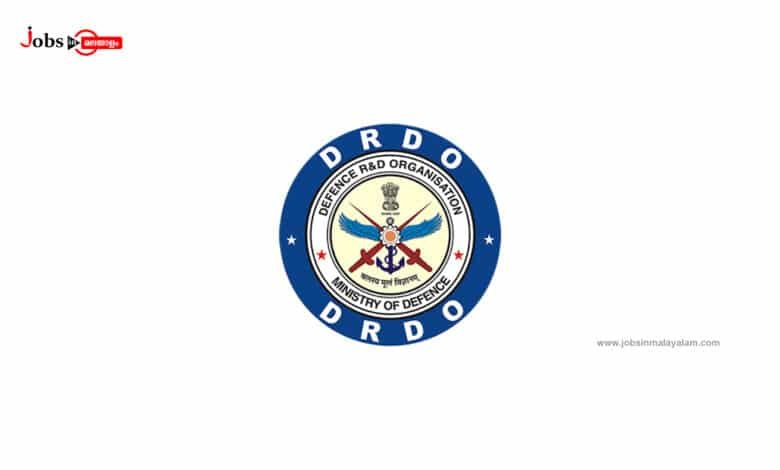 കേന്ദ്ര പ്രതിരോധ മന്ത്രാലയത്തിന് കീഴിൽ പ്രവർത്തിക്കുന്ന ഡിഫൻസ് റിസർച്ച് ആൻഡ് ഡെവലപ്മെൻറ് ഓർഗനൈസേഷൻ ഡൽഹി , മൈസൂരു,കൊച്ചി കേന്ദ്രങ്ങളിലായി ജൂനിയർ റിസർച്ച് ഫെലോ , റിസർച്ച് അസോസിയേറ്റിന്റെ 11* ഒഴിവ്.
ഒഴിവ് വിവരങ്ങൾ ചുവടെ ചേർക്കുന്നു ⇓
---
കൊച്ചി
---
DRDO NPOL Recruitment 2021 for Junior Research Fellow

---
Job Summary
Job Role
Junior Research Fellow (JRF)
Qualification
B.E/B.Tech/M.E/M.Tech
Total Vacancies
04
Experience
Freshers
Salary
Rs.31,000/-
Job Location
Kerala
Application Last  Date
28 October 2021
Educational Qualification:
Mechanical Engineering:
BE/B.Tech in Mechanical Engineering in 1st Division with valid NET/GATE qualification. or ME/M.Tech in Mechanical Engg in 1st Division both at Graduate and Post graduate level.
Oceanography/Ocean Technology:
Post graduate Degree in Basic Science pertaining to the subject/discipline in 1st Division with valid NET qualification. or ME / M.Tech in Oceanography! Ocean Technology/ Meteorology in first division both at Graduate and Post graduate level
Age Limit: 28 years
Total Vacancies: 
Mechanical Engineering : 04 Posts
Salary: Rs.31,000/-
DRDO Recruitment Selection Process:
Screening of the applications will be carried out by a duly constituted Screening Committee and the shortlisted candidates will interviewed through web based video conference over internet the schedule of which will be intimated beforehand via email.
Therefore, the candidates should possess an active email ID and check the same periodically till the selection process is completed. Only candidates shortlisted by the Screening Committee will receive communication for further selection procedure. Canvassing in any form will result in disqualification of candidature.
How to apply for DRDO Recruitment 2021?
All the interested and eligible candidates can apply through online and send the filled application form along with required documents through e-mail ( hrd@npol.drdo.in,) on or before 28 October 2021.
---
ഡൽഹി
---
യോഗ്യത
ബിരുദാനന്തര ബിരുദവും നെറ്റ് /ഗേറ്റ് സ്കോറുമുള്ളവർക്ക് ജെ.ആർ.എഫ് തസ്തികയിലേക്ക് അപേക്ഷിക്കാം.
റിസർച്ച് അസിസ്റ്റൻറ് തസ്തികയിലേക്ക് അപേക്ഷിക്കാൻ പിഎച്ച്.ഡി /ബിരുദാനന്തര ബിരുദവും മൂന്നു വർഷത്തെ അധ്യാപന പരിചയവും വേണം.
www.rac.gov.in എന്ന വെബ്സൈറ്റ് വഴി ഓൺലൈനായാണ് ഡൽഹി കേന്ദ്രത്തിലേക്കുള്ള അപേക്ഷ സമർപ്പിക്കേണ്ടത്.
അപേക്ഷ സ്വീകരിക്കുന്ന അവസാന തീയതി : ഒക്ടോബർ 29.
---
മൈസൂരു
---
മൈസൂരു കേന്ദ്രത്തിലേക്ക് അപേക്ഷിക്കാൻ www.drdo.gov.in എന്ന വെബ്സൈറ്റിൽ നൽകിയിട്ടുള്ള അപേക്ഷാ മാതൃക പൂരിപ്പിച്ച് യോഗ്യതാ രേഖകളുടെ പകർപ്പുകൾ സഹിതം
Director ,
Defence Food Research Laboratory ,
Siddhartha Nagar ,
Mysore – 570011
എന്ന വിലാസത്തിൽ അയക്കണം.
അപേക്ഷ സ്വീകരിക്കുന്ന അവസാന തീയതി : ഒക്ടോബർ 31.
---