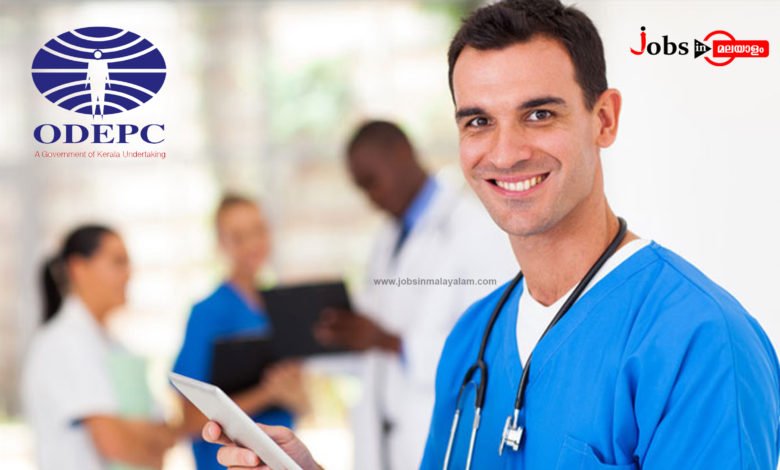 സംസ്ഥാന സർക്കാർ സ്ഥാപനമായ ഒഡെപെക് മുഖേനെ യു.എ.ഇ.യിലെ ഇൻഡസ്ട്രിയൽ ക്ലിനിക്കുകളിലേക്ക് നഴ്സ് നിയമനം നടത്തുന്നു.
പുരുഷന്മാർക്ക് മാത്രമാണ് അപേക്ഷിക്കാൻ അവസരം.
ബി.എസ്.സി.നഴ്സിംഗ് കഴിഞ്ഞു 3 വർഷത്തെ പ്രവൃത്തി പരിചയമുള്ളവരെയാണ് പരിഗണിക്കുക.
പ്രായപരിധി : 40 വയസ്സ്.
ശമ്പളം : 5000 ADE (1,03,000 രൂപ )
തിരഞ്ഞെടുക്കപ്പെടുന്നവർക്ക് താമസം,ഭക്ഷണം എന്നിവ സൗജന്യമായിരിക്കും.
odepc.kerala.gov.in എന്ന വെബ്സൈറ്റിൽ പ്രസിദ്ധീകരിച്ച വിജ്ഞാപനം വായിച്ചു മനസിലാക്കിയ ശേഷം അപേക്ഷിക്കുക
Imporatnt Dates
Post Date
10 June, 2020
Closing Date
17 June 2020
വിവരങ്ങൾ ഇംഗ്ലീഷിൽ ചുവടെ ചേർക്കുന്നു.⇓
B.Sc Male Nurses to UAE
Job Details
---
Job Location : UAE
Important Dates : Post Date: 10 June, 2020 – Closing Date : 17 June, 2020
Offered Salary : AED 5000 (~ Rs.1,03,000/-)
Career Level : Professional
Experience : 3 Years
Gender Preference : Male
Industry : Health Care
Qualification : BSc Nursing
Job Description
---
A famous Health Care group in UAE conducts interview for MALE B.Sc NURSES through ODEPC, a government of Kerala Undertaking.
Category : Registered Nurses (Male only)
Qualification: B.Sc Nursing
Experience : 3 years
Department : ER
Age: 40 yrs
Salary: AED 5000/-
Job Type : Remote clinics / Industrial clinic/Onshore and Offshore Oil field clinics/ Rigs
* candidates who have completed dataflow preferred
Other benefits
Free Food, Accommodation, and Transportation on site project, Annual Ticket, Medical Insurance and licensing fees.
Imporatnt Dates
Post Date
10 June, 2020
Closing Date
17 June 2020